IMT i-Solution_Total Imaging Solution_PRO Measurement 
iSolution family of software helps you keep pace with today's rapidly changing digital technology. This exceptional software technology and leading image analysis tool will streamline image capture, measurement and enhancement, while improving the accuracy of your results. All versions combine revolutionary measurement and analysis technology with an exceptional, user-friendly interface. Become an expert in image analysis and optimize your work environment with this imaging software suite.
high-end image analysis application that offers easy integration into any workspace, an intuitive interface and groundbreaking image analysis technology
Auto-plus has advanced fluorescence image merge and intensity measurement functions with all features of iSolutionLite. It is a perfect solution for fluorescence microscope applications.
Lite is a streamlined image analysis application that offers a wide range of unique image capture, measurement and enhancement tools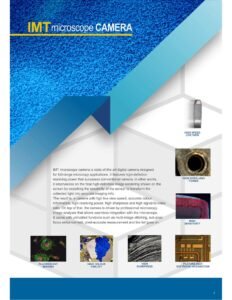 Image Acquisition

i-Solution family of software is designed to receive images directly from various hardware sources. Keeping in tune with today's rapidly changing digital camera technology, you can directly control digital cameras within the i-Solution software. IMT software also supports TWAIN and WDM Drivers along with a wide variety of frame grabbers and i-LINK from Sony. The Time Lapse Capture tool offers accurate time interval analysis for video production for both analog and digital cameras. Movie recordings can be saved in AVI, MPG, MPEG, and MOV file formats. The time is also captured during recording.
Live Measurement and Overlay

Measuring and analyzing high volumes of images can take a long time. With live measurement you don't need to capture images in order to perform measurements. This will allow you to measure, analyze, sort and manage image statistics all from a Live Preview window. In addition, you can import measured data, images, statistical tables and diagrams into MS Excel in real time.
You can perform these high-speed live measurements using both CCD and high resolution digital cameras. Crosshair generation and calibrated grid masks on the live preview window are also available.
Live Measurement and Overlay

All measurements start with an accurate calibration. Auto, Semi-Auto calibration functions allow the software to calculate the pixels per-unit value automatically. Simply set the units for the calibration scale and the minimum distance between the scale marks. This feature greatly improves the accuracy and repetition of measurements.
Manual calibrations are easily added and saved for recall from a drop down menu. All calibrations can be saved to a back-up file, which allow the calibration be retrieved by simply opening the saved files later. Calibrations can be password protected as well. Two password options, one in calibration menu itself and the other in camera resolution option, protect calibration by unexpected change.
A scale bar can be permanently added to each image. Scale bar properties for color, size and text are simple to optimize for any image background

Automatic Calibration Adjustment

By using the Adjust Resolution option in the calibration menu, all camera capture resolutions may be used regardless of the image resolution which was used for calibration. Even different cameras can be used on the basis of the same calibration. All calibration is adjusted automatically even with different camera models and captured image resolution.
Intuitive user interface makes image capture easy and straight forward

Image capture, live measurement, live focus enhancement, and overlay settings are on the same menu window. User can easily handle all functions on the same menu window.
Live image stitching
Combining captured images of adjacent fields to create one large, single image usually requires a motorized stage and controlling software. With Live Image Stitching, all that is needed is a manual X-Y stage.
COMPATIBLE TO ANY TYPE, BRAND OR MODEL OF MICROSCOPES SYSTEM
#Leica #Zeiss #Nikon #Olympus #Huvitz #Xoptron